Customer Relationship Management Australia- Cleaning Business Software
Customer Relationship Management Software Australia Enhances
Your Close Relationship with the Buyer
The core of any business is the customer, so maintaining a good relationship with the customer is vital and should be given priority. Most companies big and small rely on cleaning services for the maintenance of their office premises, warehouses and other such spaces. With everything becoming fast paced and competition on the rise, relying on manual entries of customers, maintaining physical records of cleaning services done can become a huge task, especially when you have a growing list of customers.
So when customer satisfaction is the key to a successful business, how do we achieve the best way to manage relationships with your existing customers and attract new ones?
The answer lies in investing in a powerful tool; Customer Relationship Management (CRM) software that takes care of managing the core of your business – The customer.
So what really is Customer Relationship Management Software in Australia?
Simply put, customer relationship management software in Australia is a leading and most trusted software that can transform the way you interact with your customer, and helps you keep the relationship cycle.
Let us get an insight on what Customer Relationship Management software Australia can do for your cleaning business:
Hold on to your Core
It contains complete customer history, with a simple and easy to understand KPI rating system. With information like this it becomes easier to do quality check audits at a glance. This in turn helps you to focus on areas where your cleaning services may have fallen short of expectations and at the same time enhance the areas where you have performed well.
When we say customers are the core, we really mean it by giving the key to the customer. This in turn can help understand how competent you have been. Quality audits for cleaning services you have done can be immediately uploaded from the client's site to your dashboard at any time. This will keep you updated about your service performance even when you are on the go. You don't really have to be sitting in your client's office waiting for feedback.
This software also helps to keep track of when the next appointment with the client is. This gives you the advantage of never missing a quality audit.
Customers always appreciate when your follow-up straight away and take quick action on any complaints and non-compliance issues to do with cleaning staff. It shows your professional attitude and the same helps in keeping your valuable customers. This software also gives you reminders that are sent to your Dashboard.
Never miss out on any information in future as this Customer Relationship Management software keeps complete customer details.
Every customer is different and has different needs. The Customer Relationship Management software helps you keep customer specific information in place.
On the Job
With automatic reminders it is now easy to schedule your customer's cleaning jobs and improve onsite work productivity. More work means more profit.
Get in Touch with your Core
The Customer Relationship Management Australia software allows the client to login and register complaints and any other issues, which are immediately uploaded and available at your dashboard. This gives you an opportunity to never miss any request from the client, and helps you be in control of for your business as you reach out to them immediately, scoring brownie points by keeping the customer happy.
Another unique feature allows the customer to view the audit history of cleaning services carried out by you, even if they have multiple sites.
How Customer Relationship Management Software helps get your work orders in place:
The multifaceted software helps to ensure that you get your hard-earned payments on time. The software will prompt you to enter all the required fields in the system so you never forget to generating the invoice on the spot.
Get all your on-site, one-off job approvals and invoicing done at the click of a button with comprehensive details that are attached to each client work order.
What more, go paperless and save the environment by submitting and tracking work orders online.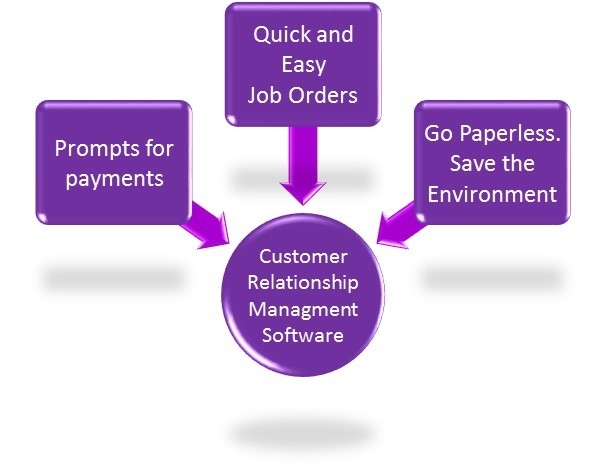 Packed with these amazing features, keeping and maintaining close relationships with customers is no longer a gigantic task. A happy and satisfied customer is an asset to your business. Armed with the latest Customer Relationship Management software at your fingertips, nothing stops you from being a leader in the cleaning business industry with the help of our cleaning business software.
"Customers may forget what you said, but they'll never forget how you made them feel". – Unknown.