Human Resources Management Software – CBS Australia
Seven Pros of Cleaning Company Human Resources Management
"Human resources isn't a thing we do. It's the thing that runs our business." -- Steve Wynn
Human Resources is an important asset to any kind of business. In a cleaning company most of the work is labour intensive, so handling the workforce correctly should be focused upon. As your business grows, having the right human resources management software is essential to track and record all the varied aspects of your business functions. Our human resources management software provides your business with end-to-end solutions that will help you retain and maintain your workforce efficiently without any glitches. But if you are wondering whether you really need to invest in this, here are your seven reasons for doing so;
The human resources management software backed with digital operations makes maintenance an easy affair. Whether you want to check the performance of a specific staff member or check the history of a specific cleaner, you can do it all in few clicks. You don't have to dig through the records that will take up your precious time and energy. With human resources management software, just login and enter the staff member's code and you have their entire details in less than a minute.

With your business spread across many locations, tracking every staff member's details and performance might be a daunting task. This is where our software comes into the picture. No matter where your business is operating you can easily keep track of your staff. Keeping track of performance and history will provide you with the information that will allow you to improve productivity. These details may also help you to increase your workflow and change the course of your business.
This is another unique feature of cleaning company human resources management software. Improving your HR needs regular reporting and analysis. Our human resources management software provides flexible reporting options that will let you collect vital data for your specific business requirement. This makes it easy for management staff to then analyse these reports as all the information they need to make important business decisions is all laid out in front of them after just a few clicks.
All the functions of the software have been designed in such a way that it is extremely user friendly. Making it convenient to be used by one and all. Our easy to access software is popular with all levels of management which makes for better forecasting, planning and productivity. The user friendly approach encourages all staff members to make full use of it. It will also adapt and has to customised templates and solutions to suit the changing needs of the cleaning business for your commercial and residential customers.
Having organised data makes your business ready for any dynamic and unexpected changes in the company. It helps with organisation and efficiency so your business is always ready to step up to the next level. It helps with detailed planning that will allow the business to grow. It helps with keeping track of your staff member's training qualifications which will alert you when any licences require updating or training programs need to be implemented. It will also help the business to quickly perform its current operations, thereby increasing the efficiency.
The more streamlined the human resources management processes are, the more efficient the business structure becomes, which will enhance the working culture of the business. By aligning the HR operations, it helps project a professional image for your business. By using our software, you can perform the following operations, professionally:
Check the performance of your staff
Keep historical details, ready for use
Plan training needs
Plan recruitments
Plan the workflow of regular clients and get your business ready for new ones.
If you are thinking of taking your business to the next level, then you can do it with ease with our human resources management software. Business expansion becomes easy when you have planned your manpower and are ready to take up the changes needed for the booming business. It is especially helpful when you need to grow the business across different locations or cities. Be prepared to take up more work with increased productivity and quality delivery of cleaning services with our HR software.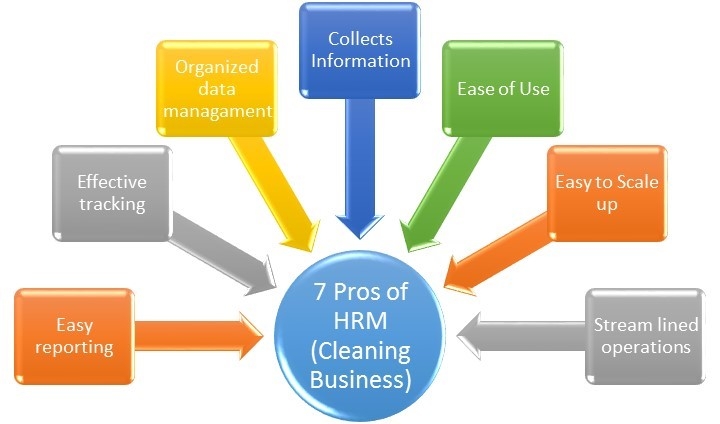 So catalyse your human resources management system with our cleaning business software and drive your business to the next level with smooth and ease like you never imagined.