The Success of a Janitorial Bidding Software - Cleaning Business Software
As quoted correctly by Peter Bogin, "The bidding has just begun. It will be fascinating to see how the battle develops", bidding is no less than waging a war amongst several other competitors to win a business contract. Given the fact that there are several players in the cleaning business, how you bid makes a lot of difference. It can be seen as a great way of communicating what sets your business apart from the rest. In this rat race, a well-thought out and well-curated bid can make sure you win that contract that pushes your business to the next level of engagement. Our Janitorial bidding software has been designed by industry experts who understand the nuances of the business and also know exactly what your clients are looking for.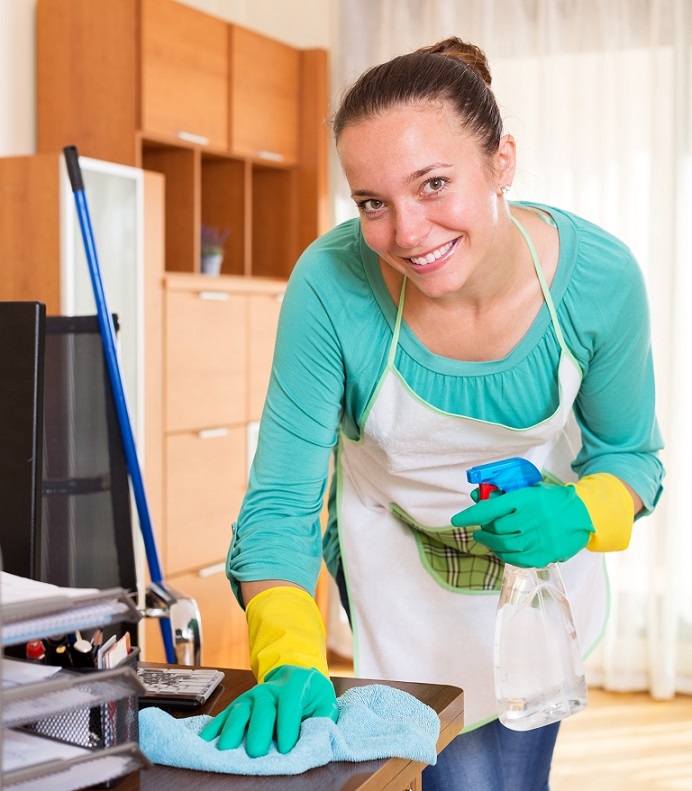 Here is a list of the many features of our software that will help you secure that winning bid:
Made for all:
Whether your company is a start-up or a seasoned player, this software is designed for cleaning businesses of every size. The janitorial bidding software keeps every aspect of the bid in mind and does not miss any important details that will make your business stand out in the crowd to be chosen by the client.

User-friendly:
The advantage of taking up our janitorial bidding software is that it's very easy and convenient to use. What is the point of having complex software that will not allow you to reap the benefits? You need your janitorial bidding software to simply enhance visibility to the client and increase your chance of securing that winning bid.

Specific details:
Capturing important information that represents your company status and commitment is important in a bid. This, with the help of our software, is covered and done. We make sure that every detail of your bid is clearly outlined so that your client knows exactly what is required. This will convince them of your business potential.

Organised and systematic:
First impressions are important. No matter what you do, creating the right impression on the client requires an organised showcase of details and information. Putting this information in the right order of importance is vital and is a matter of expertise. We help you achieve this with the janitorial bidding software.

Professional:
Proving the high professionalism of your abilities to handle the client's cleaning needs requires a thorough understanding of the industry and your business. Putting the details on the paper is a skill that we have mastered with time and experience. Our janitorial bidding software will tell your business story the way it is supposed to be and in the most professional and crisp manner.

Representation:
Winning a bid in the cleaning business is also about perception. The client must feel confident that your business has the zeal, expertise and professionalism needed to handle their needs. Not to forget the other traits such as accountability and integrity. A bid is a way of talking about these qualities to your potential client and we can help you achieve this with the best possible results.

Made to win quotes:
When you purchase our janitorial bidding software we provide you not only with the ability to draft the best bid, but also make every effort to help you win them. This is not possible without the precision workmanship that goes into formulating your business bid. Our experts, backed with years of experience, understand how well a bid can do the talking and leave no stone unturned to make sure that your business does the best job it can to win every scenario.

Customer focused:
While creating a bid it is important to understand the needs of the customers and cover all the necessary details that the customer is looking for. While some customers look at the quality of the services provided, some will look at the cost and affordability. Every customer has their own set of requirements that vary and must be addressed individually. Our janitorial bidding software will cover that aspect for you.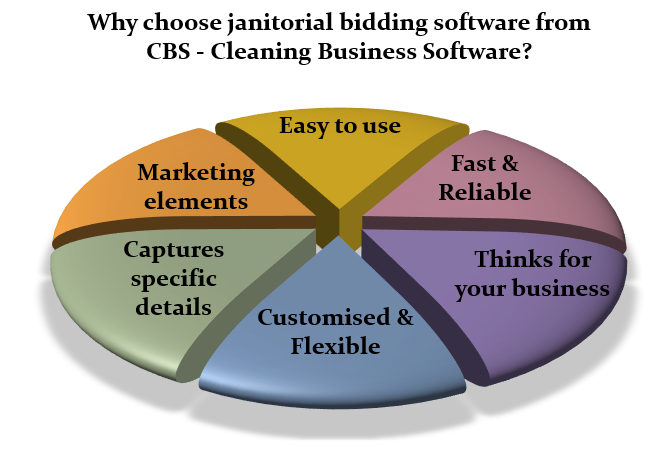 Captures the needed specifics.
Makes the bid cover the marketing elements too.
Budget friendly and easy to use.
Convenient, fast and reliable.
Does most of the thinking for your business.
Customised and flexible as per the needs of the client.
If you are looking for professional help to produce your winning bid; look no further than our janitorial bidding software package. Make the right impression first up and win more business contracts! Happy bidding!